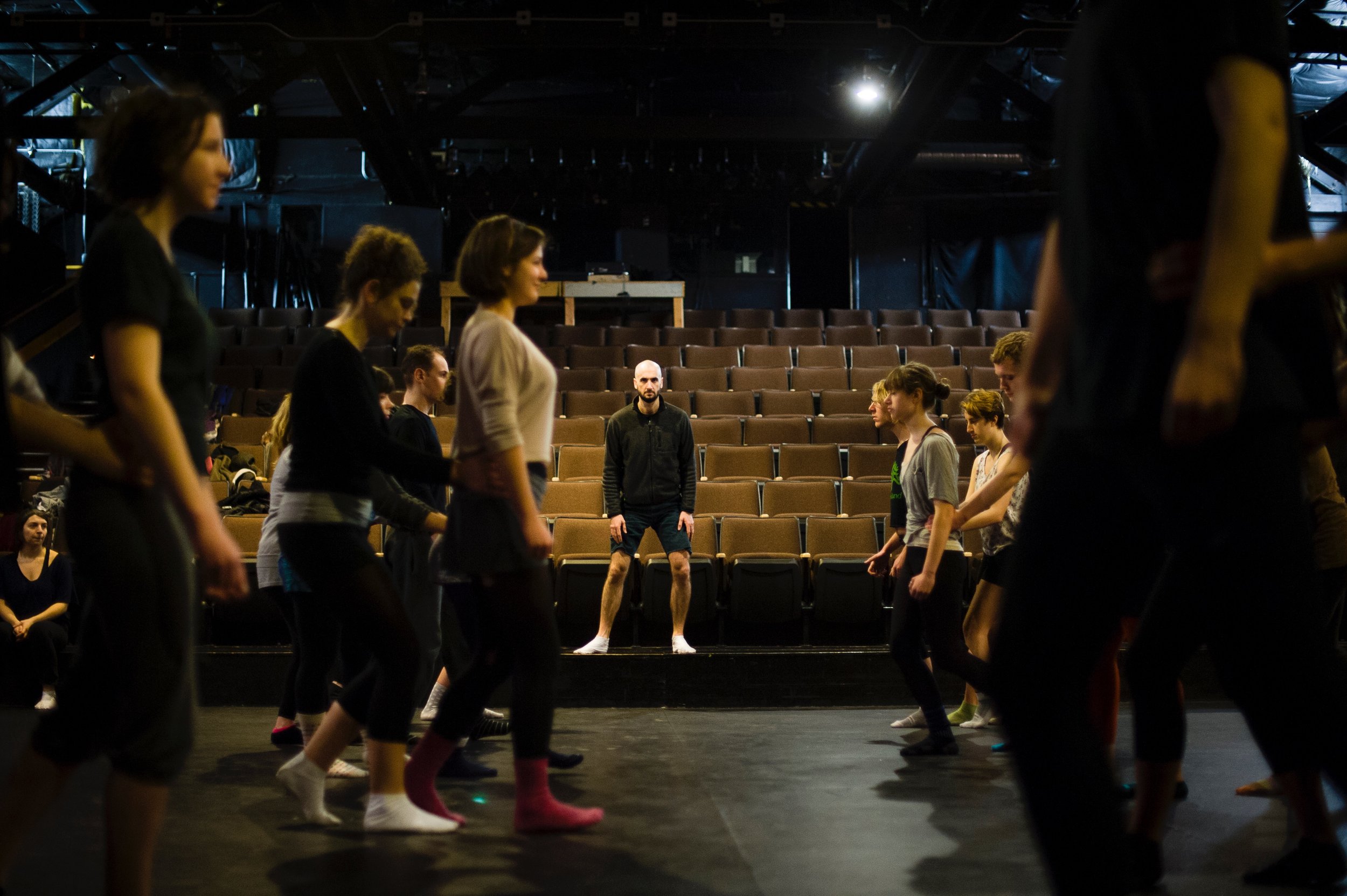 ABOUT THE INSTRUCTORS
ICP courses are taught by our core faculty: Philip Cuomo, Jacob Coleman, Rebecca Lingafelter, Cristi Miles and Amber Whitehall. All instructors have extensive training with performance greats like Sonia Moore, Anne Bogart and the SITI Company, Mary Overlie, Wendell Beavers, Barbara Dilley and Tectonic Theatre. ICP faculty have taught at Portland Actor's Conservatory, The Sonia Moore Studio of Theatre, Barnard College, Naropa University, Brandeis University, Boston Conservatory, Pacific University, Lewis & Clark College, Portland State University, The Public Theatre, and the New York Conservatory for Dramatic Arts.
Jacob Coleman is a director, performer, teacher and founding member of PETE (Portland Experimental Theatre Ensemble). Recent performance work with PETE includes Uncle Vanya, Procedures for Saying No, [or, the whale], Enter THE NIGHT, The Three Sisters, and R3. Jacob has also performed locally with Shaking the Tree (A Doll's House), Imago Theatre (The Caretaker, The Homecoming) and Liminal (The Resurrectory). Jacob directed PETE's Deception Unit, All Well, Drowned Horse Tavern, Song of the Dodo, and co-directed Opus 3 at the Portland Actors Conservatory. Additional directing credits include Blithe Spirit at George Fox University, and The Vagina Monologues, The Laramie Project, and The Scrivener at Pacific University. Jacob has also collaborated with Hand2Mouth, The Portland Art Center, Jenny Vogel, and zoe|juniper. In addition to teaching with ICP, Jacob has taught at Lewis and Clark College, Pacific University, George Fox University, The Portland Actors Conservatory, Portland Center Stage, Naropa University, and Reed College. MFA, Naropa University.
Philip Cuomo is the Producing Artistic Director of CoHo Productions. He is a director and actor and a Third Rail Repertory Theatre core company member. His directing credits include work with Third Rail Repertory Theatre, Hand2Mouth, Theatre Vertigo, Miracle Theatre, Nomadic Theatre and Portland Actors Conservatory, all in Portland Oregon, Oberon Theatre Ensemble, Expanded Arts and The Sonia Moore Studio of Theatre in New York City and with The Tampa Historical Society and School is Fun Productions in Florida. He has worked extensively in devised work and play development.
Most recently Philip was the Executive Director of Portland Actors Conservatory. His responsibilities included administrative and operational oversight in regards to compliance with National, State and local agencies, budgeting and finance, origination and disbursement of federal financial aid, administrative staff, fundraising, development and marketing. His leadership was instrumental in securing accreditation from the National Association of Schools of Theatre in 2008. He oversaw the creation and implementation of policies, procedures, and systems to disburse federal financial aid under Title IV beginning in the fall of 2009. He was instrumental in securing approval to offer F-1 student visas to international students. His leadership and discipline stabilized the financial health of the institution. Philip was a member of the Conservatory faculty teaching movement and clown and directing in the Conservatory season of plays.
As an actor he has appeared at Lincoln Center, The Hartford Stage, The Civic Theatre of Central Florida, and in Portland with Third Rail, Artists Repertory Theatre, Shaking the Tree, and Imago Theatre.
Philip is an adjunct faculty member at Portland State University teaching movement and clown.
Rebecca Lingafelter is a performer, teacher and producer based in Portland. She received her MFA from Columbia University in 2005, where she studied with Anne Bogart, Andrei Serban and Kristin Linklater. In New York she performed at Classic Stage Company, PS122, The Ontological Hysteric Incubator, HERE Arts Center, The Bushwick Starr, The Chocolate Factory, Judson Church, Vortex Theatre Company, Target Margin Theatre, and The Metropolitan Opera. She has performed internationally in Korea, Germany, Italy, England and Budapest, Hungary. She was co-artistic director of experimental theatre ensemble Performance Lab 115 from 2005-2010, where she produced and performed in over 12 productions. In addition she was lead-artist for PL115's six-month residency with Mabou Mines mentored by Ruth Maleczech in 2008. Rebecca is currently an Assistant Professor of Theatre at Lewis and Clark College. In addition she has taught at the The New York Conservatory for Dramatic Art, The Public Theater, Classic Stage Company, The Brooklyn Academy of Music, and the Portland Actors Conservatory. She is a founding member of PETE (Portland Experimental Theatre Ensemble), a core member of Third Rail Repertory and a proud member of Actors Equity and SAG/AFTRA. Recent productions include Nomads by Julia Jarcho (OHT Incubator, NYC), and PETE's Three Sisters. This spring she will be performing in Belleville with Third Rail Repertory and Grounded at CoHo Theatre.
Cristi Miles is a native of El Paso, Tx and is a performer, director and teacher. She has taught and created at numerous theaters nationwide including: The Berkshire Theatre Festival, PETE (Portland Experimental Theatre Ensemble)where she is a founding member, Portland Actors Conservatory, Portland Playhouse, The Stoneham Theatre, The Huntington Theatre, New Repertory Theatre and The Boston Conservatory. As an actor she has worked with: PETE, Third Rail Rep, Portland Playhouse, Portland Shakespeare Project, Teatro Milagro, San Jose Rep, New Repertory Theatre, The Nora Theatre, Actors' Shakespeare Project, The Stoneham Theatre, The Huntington Theatre, Profile Theatre, Coho Theatre, The Portland Civic Theatre Guild, and New Rep on Tour. She has trained with Anne Bogart and the SITI company, Double Edge Theatre Company, The Roy Hart Theatre company and is a AmSAT certified Alexander Technique teacher, who is devoted to working with performers to improve their use and performance quality. Cristi holds an MFA from Brandeis University and is a proud member of Actors Equity.
Amber Whitehall is performer, writer and teacher. She is co-founder of PETE (Portland Experimental Theatre Ensemble). Her work is a unique synthesis of technique, concept and practice informed by her years of experience making original work in a collaborative way. Her research and teaching includes creative compositional processes, embodied awareness and expression, and the symbiotic relationship between composition and improvisation. She has produced work and taught in Portland, Seattle, NYC, and Europe. She is a dedicated practitioner of the Viewpoints and the Suzuki Method actor training. She is also a trained practitioner of Roy Hart Voice Work, Developmental Movement, and BMC. Amber has taught acting and movement in the BFA program at Naropa University; butoh dance at The Evergreen State College; composition at Conduit Dance; Voice at Portland Actors Conservatory; and Suzuki and Movement at Lewis and Clark College. She has been facilitating performer training and composition workshops for professional artists since 2003. She is also a Registered Yoga Teacher. MFA: Contemporary Performance.